The 2019
AMG S-Class Coupe
Set the pace of perfection.
AMG S 63 and S 65 COUPES
Few words go together like Mercedes, AMG and racing. From their vertical-bar grille to the hand-built biturbo engine behind it, the 603-hp V8 AMG S 63 and 621-hp V12 S 65 are flagship coupes that are born to fly under a checkered flag.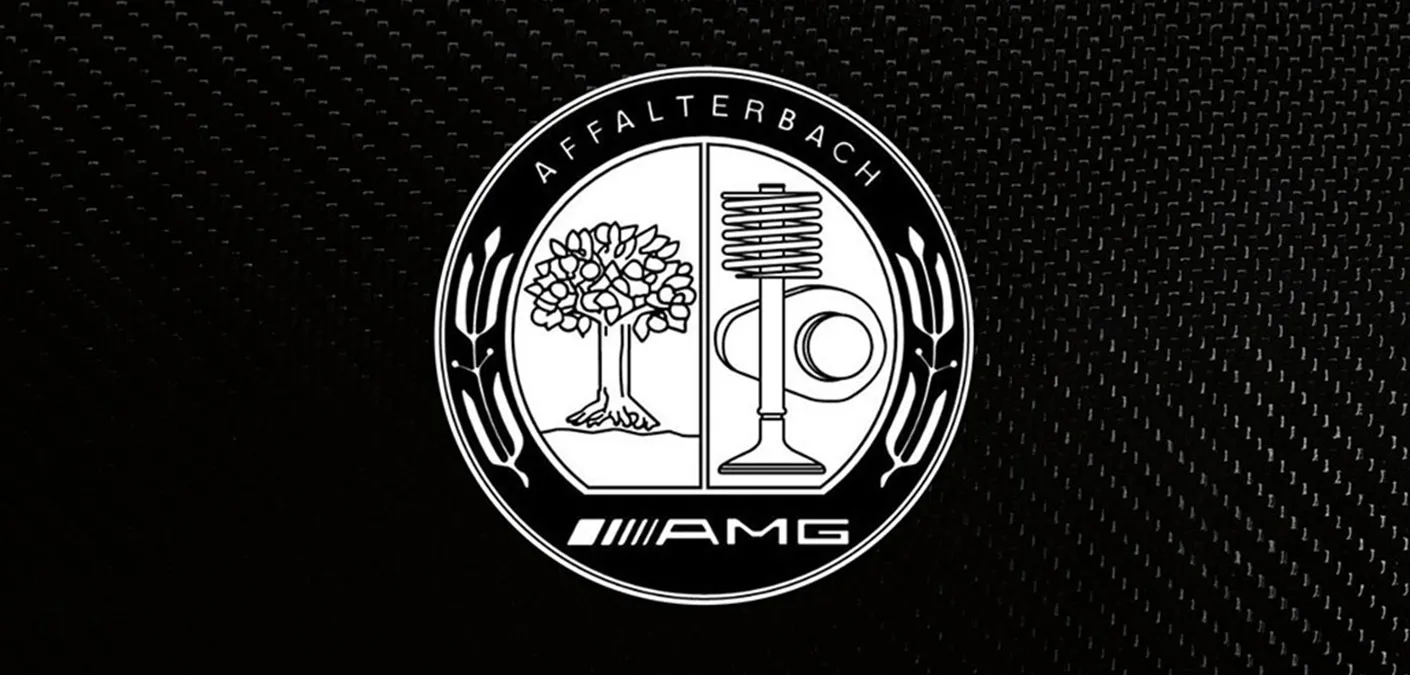 A race that knows no finish line.
In an old mill in 1967, two automotive engineers with a passion for motorsports began turning Mercedes-Benz sedans into winning racecars. Today, as the performance division of Mercedes-Benz, AMG continues to create victory on the track and desire on the streets of the world. Every Mercedes-AMG vehicle is the product of craftsmen, designers and engineers who live to test limits, and for a singular goal: Driving Performance.


Born to perform, developed to outperform
A Mercedes-AMG engine only starts with the state of the art. From there, everything from fuel pressure to exhaust routing is developed to quicken, heighten and intensify its response, and yours. Developed for AMG's racecars, patented NANOSLIDE cylinder walls cut friction, raising endurance and power.
---
Eight cylinders, born from a single pair of hands.
The handcrafted 4.0L V8 under the S 63's hood nests a pair of twin-scroll turbos between its cylinder banks. Its "hot inside V" turbo placement cuts lag and losses, to deliver 603 hp, 664 lb-ft of torque, and a 3.5-second thrust from 0 to 100 km/h. [1]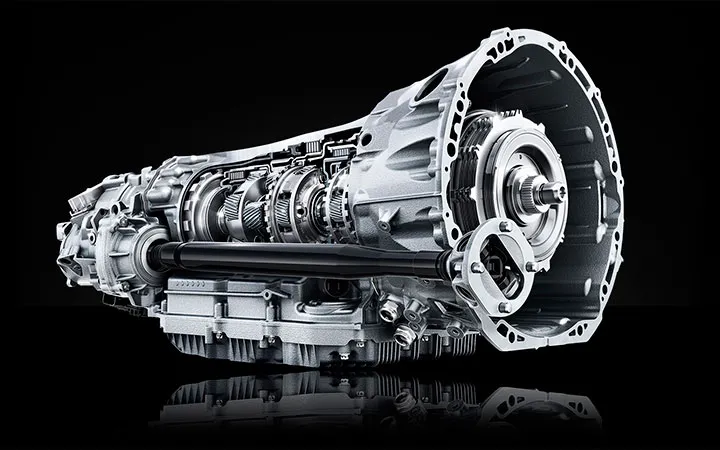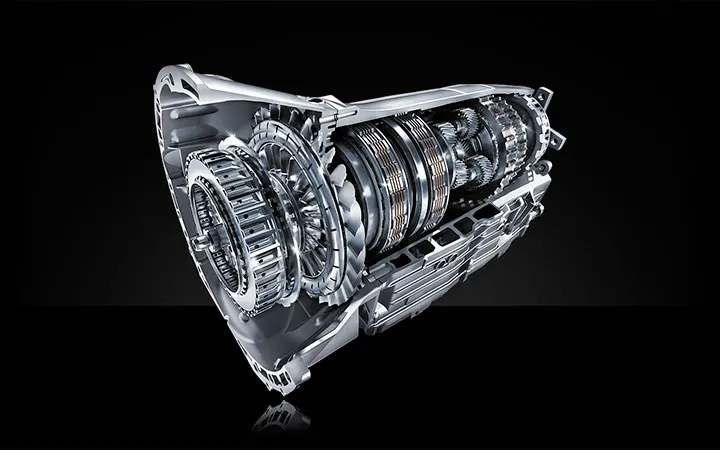 Speedier shifting, at your fingertips.
Quick-shifting transmissions keep you at the peak of power. A 9-speed multiclutch AMG SPEEDSHIFT® MCT in the S 63 is light, swift and flexible. Both it and the S 65's AMG SPEEDSHIFT PLUS 7-speed offer multiple modes and rev-matched, multi-gear downshifts.
A masterful V12, crafted by its own master.
The AMG S 65's 6.0L biturbo V12 generates staggering output with supernatural ease. Its 621 hp and pavement-trembling 738 lb-ft of torque can turn the scenery into a 100-km/h blur in just 4.1 seconds. [1]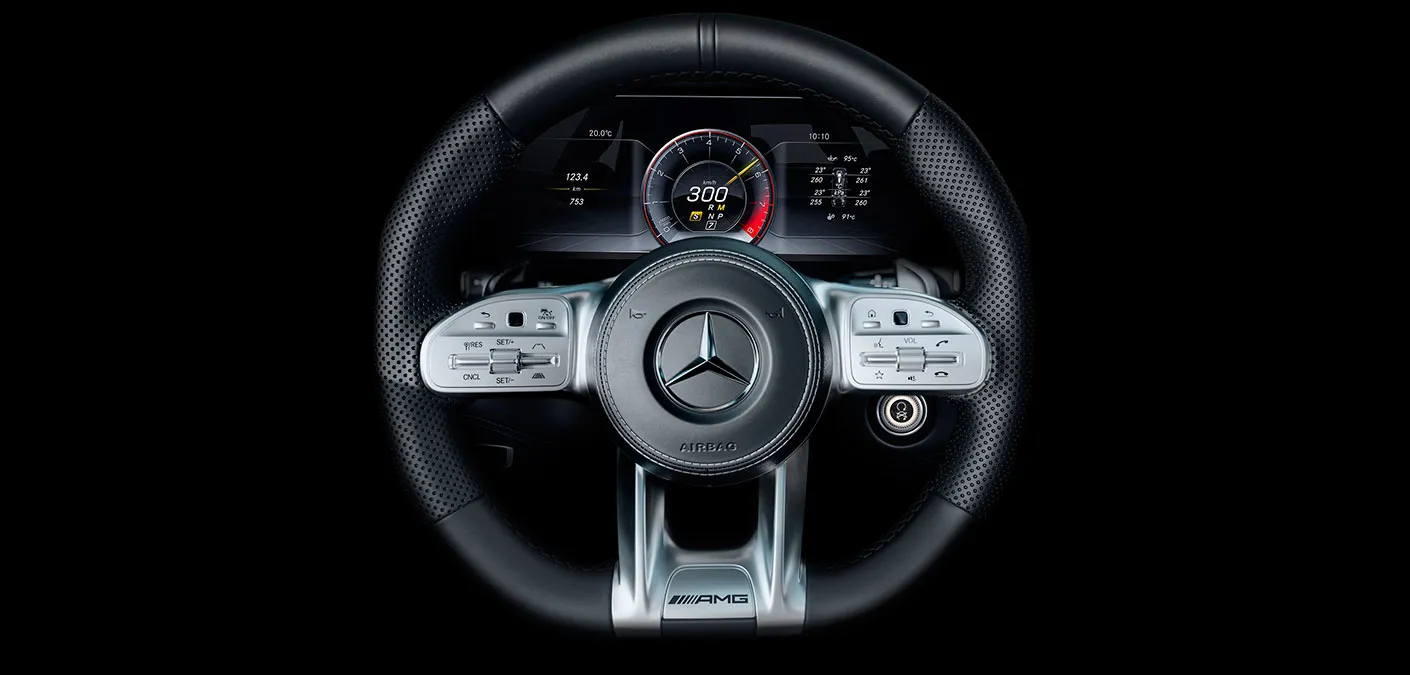 Multiple modes, for your many driving moods.
AMG DYNAMIC SELECT lets you transform your car with the tap of a console control. From Comfort to Sport, there's a mode to sharpen corners or chill out your commute. You can even set up the shifting, suspension, steering and more to create a mode of your own.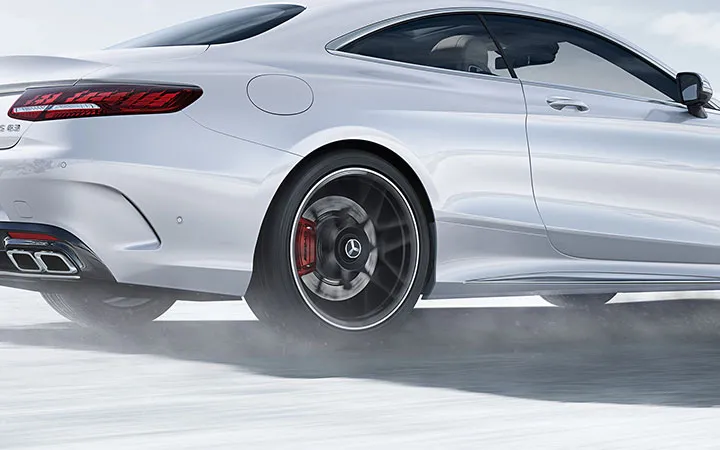 Variable torque, to turn traction into action.
AMG Performance 4MATIC+ expertly apportions the S 63's torque to all four wheels, to maximize grip at takeoff, agility in turns, and stability in all situations. Its innovative variable torque split can adapt to conditions intelligently and seamlessly, from 100% to the rear wheels to a 50/50 split. [2]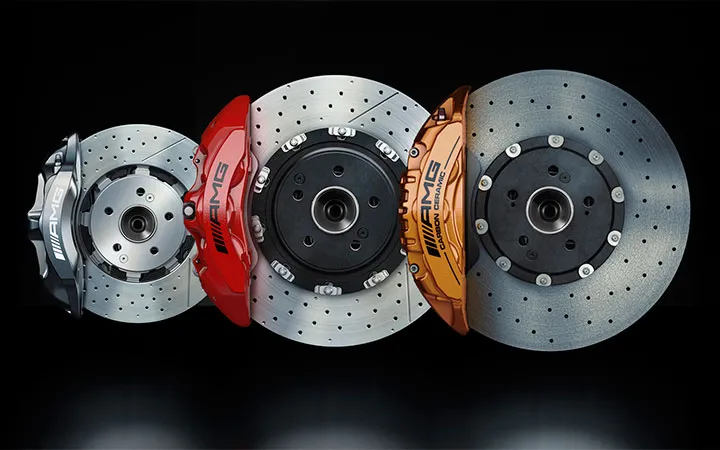 Compound brakes, to rein in its horses.
An AMG S-Class is engineered to shed speed even more admirably than it accelerates. Rigid 6-piston front calipers evenly apply high braking force to compound perforated and slotted 390mm front discs. Optional AMG Carbon Ceramic brakes are race-proven for extreme endurance with less weight. [3] [4]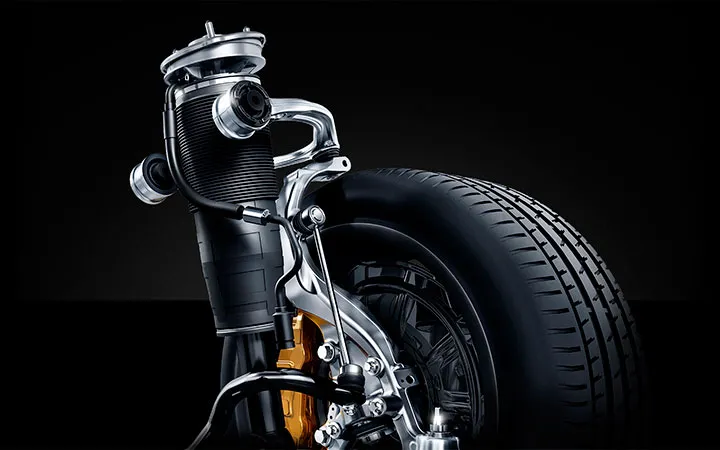 Adaptive handling, for an unwavering sense of control.
The AMG Adaptive Sport Suspension is based on AIRMATIC in the S 63, and on the fully active, camera-based and curve-tilting MAGIC BODY CONTROL in the S 65. Each offers multiple modes so you can fine-tune their extraordinary capabilities to suit your desires or meet the demands of the road below.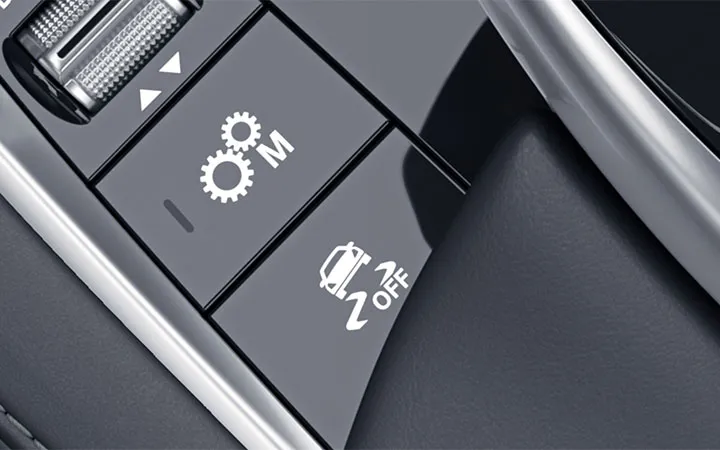 Torque vectoring, for an inside line on taking curves.
Along with 3-stage ESP® that lets you vary the intervention of the Electronic Stability Program, torque-vectoring Dynamic Cornering Assist helps you take curves with greater precision. Single-wheel braking helps gently pivot the car onto a more favorable path. [5]


Some tributes are best paid forward.
Its AMG grille is an homage to a record-breaking racecar. Its rigid, pillarless body has been flexing its muscle for decades. But there's more than history in every detail of an S-Class Coupe. There's a legacy of leaping ahead in technology, style, luxury, and most of all, performance.
---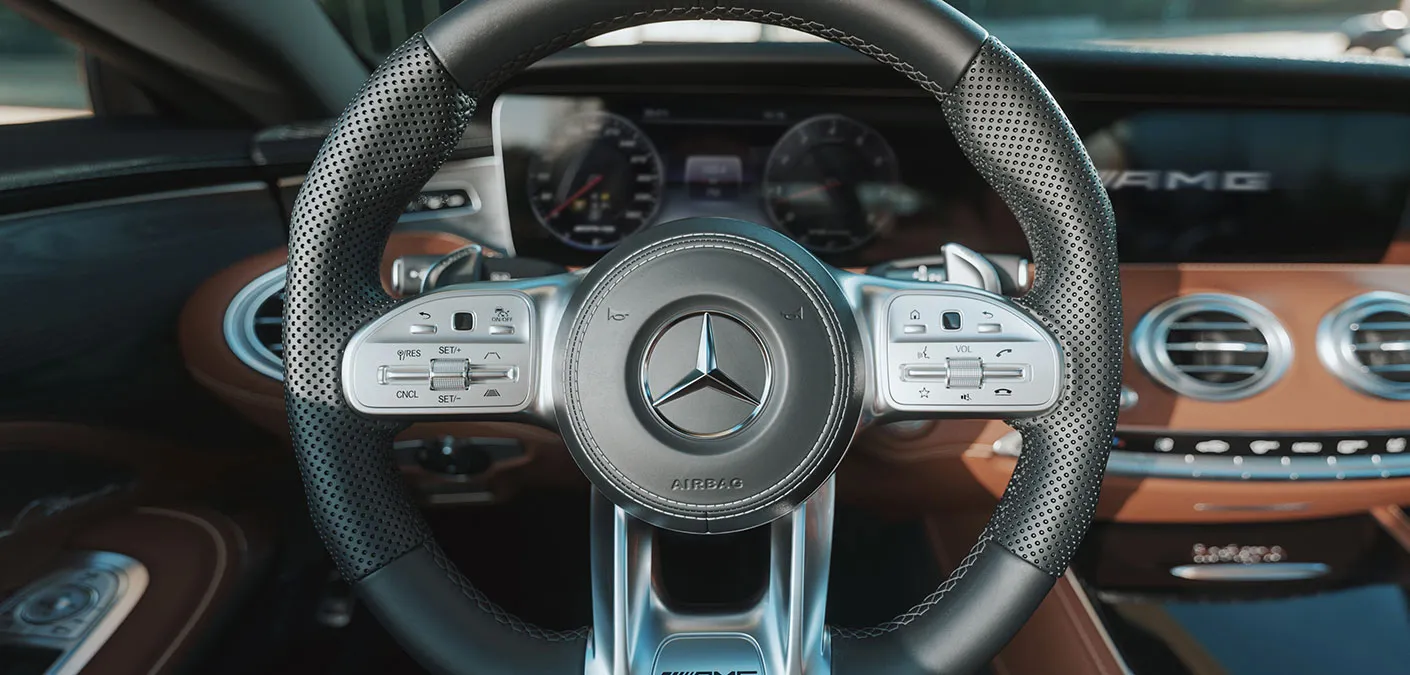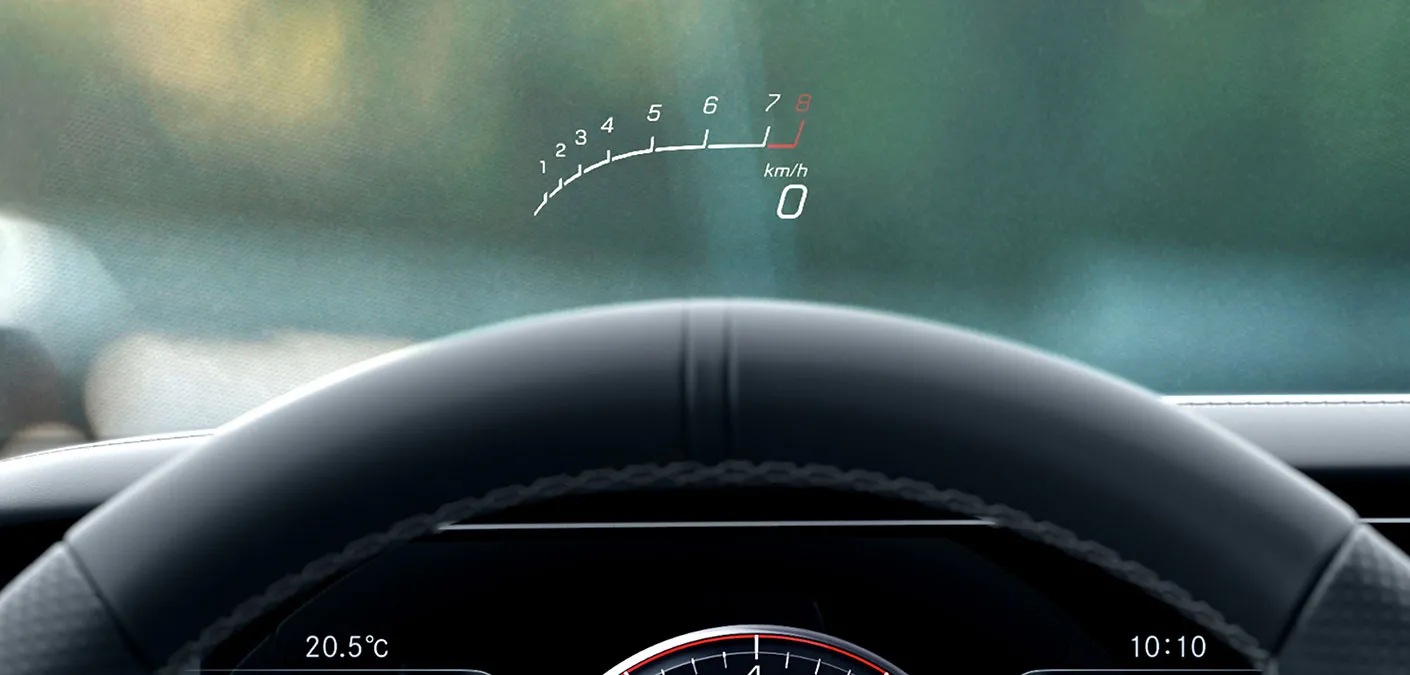 Crafted to keep you in command.
Much like its hand-built engine, the cabin of an AMG S-Class is carefully crafted from materials chosen for to perform, endure and reward your senses. A reconfigurable widescreen dash, Head-Up Display, and four styles of AMG Performance steering wheel, all with Touch Control Buttons, keep you on top of it all.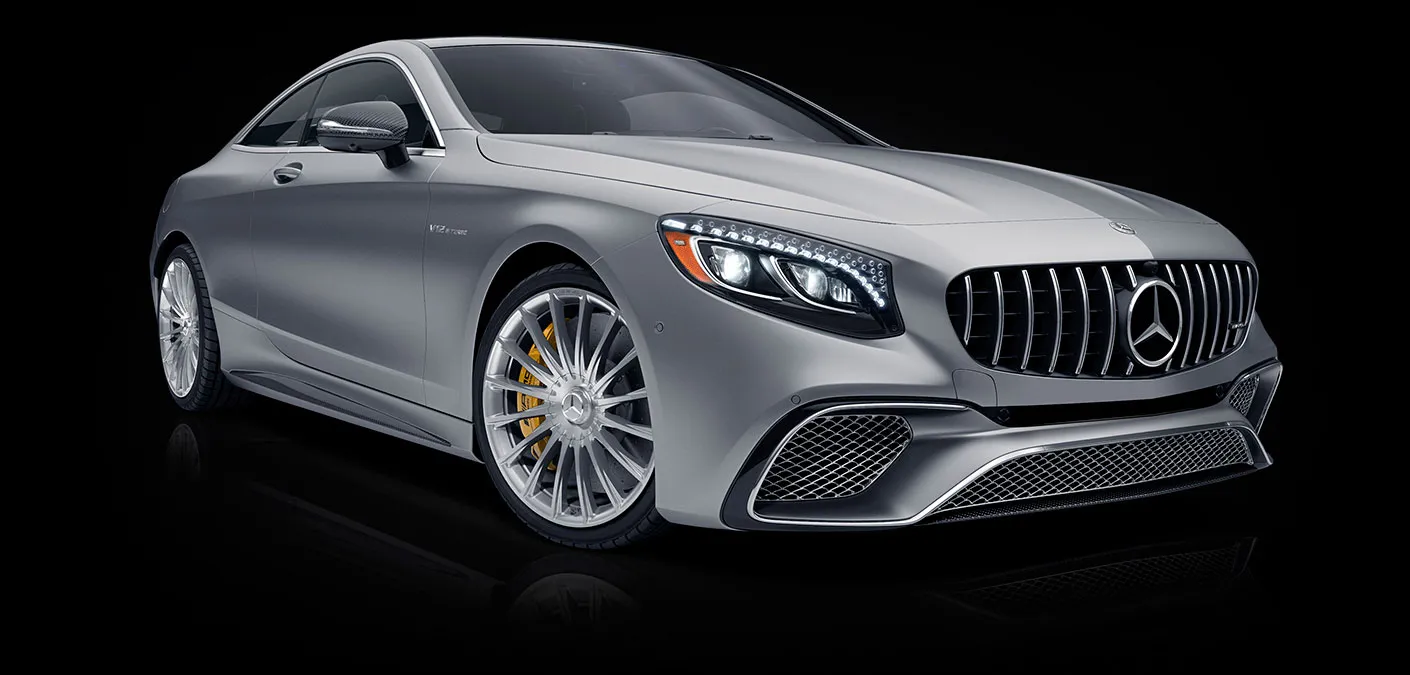 Multiple options, for a singular statement of you.
Choose from five 20-inch AMG wheel designs, all of them forged-alloy. Accent the aero-aggressive AMG bodywork and deep gloss or modern matte paintwork with carbon fibre or gloss black trim packages. And with a spectrum of paintwork and leather, you can make your S-Class not just all yours, but all you.
Models
Model Lineup
AMG S 63 4MATIC+ Coupe

$

185,000

*

MSRP

Engine

Handcrafted 4.0L AMG V8 biturbo
Acceleration

0-100 km/h
3.5

sec

Power

@ 5,500-6,000 rpm
603

hp

Torque

@ 2,750-4,500 rpm
664

lb-ft
---
Dimensions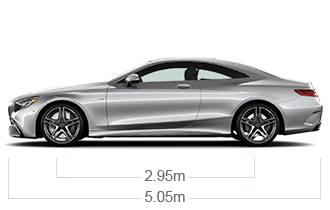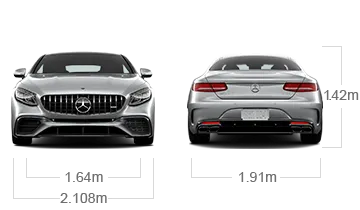 Key Features
Passenger capacity

4

Automatic Transmission

AMG SPEEDSHIFT MCT 9-speed

City fuel economy

14.0 L/100 km

Highway fuel economy

8.7 L/100 km
AMG S 65 Coupe

$

270,800

*

MSRP

Engine

Handcrafted 6.0L AMG V12 biturbo
Acceleration

0-100 km/h
4.1

sec

Power

@ 4,800-5,400 rpm
621

hp

Torque

@ 2,300-4,300 rpm
738

lb-ft
---
Dimensions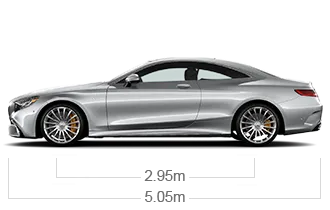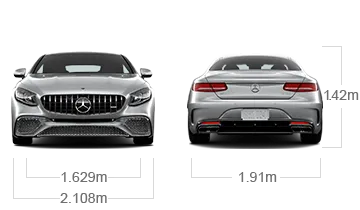 Key Features
Passenger capacity

4

Automatic Transmission

AMG SPEEDSHIFT PLUS 7-speed

City fuel economy

17.6 L/100 km

Highway fuel economy

11.0 L/100 km