MBFS finances, insures and enables mobility! As a subsidiary of Mercedes-Benz Group, we specialize in financial and mobility solutions for your everyday life. Our solutions therefore range from leasing and financing services through insurance to app-based mobility solutions such as car sharing, Mobility-as-a-Service (MaaS) or innovative driving services.
Watch Video

Why Mercedes-Benz Financial Services?
Named one of Canada's Best Workplaces by the Great Place to Work Institute, Mercedes-Benz Financial Services has been recognized for creating an exceptional workplace environment. It's a symbol of our commitment to our employees and a designation we're honored to receive.
We invite employees to ask questions, make decisions, offer opinions, share ideas, raise concerns and more. Working at Mercedes-Benz Financial Services you'll find:
An open-door culture

An open-office environment

Gathering spots to encourage teamwork

"Hatch" – an employee driven portal to share and rate ideas

Surveys inviting feedback on policies, culture, amenities and more
At Mercedes-Benz Financial Services, we always want to acknowledge and thank one another for a job well done. Recognitions include:
Success stories, to recognize great achievements publicly
Excellence Award, where peers nominate each other

Company
We pride ourselves on having quality benefits and a diverse, inclusive workforce. See how we're organized as a company, and how we take care of our own.
See Open Positions
Frequently Asked Questions
Our Culture
Our Vision:
To be the first-choice provider of financial services for our dealers and customers in partnership with our automotive brands.
Our Mission:
We are committed to excellent financial services that:
Create value for our brands, dealers and customers.
Contribute to the overall success of Mercedes-Benz Group.
Offer rewarding opportunities for our employees and to the communities where we live and work.

Our Values:
Integrity, Openness and Respect
Financial and Social Responsibility
Inspired, Empowered and Diverse People
Customer Focus
Commitment to Excellence
Diversity & Inclusion
We strive to create an open atmosphere that welcomes diverse points of view and promotes dialogue. This encourages the kind of innovative thinking that enables us to best serve our customers, dealers and each other every day. Cultivating a culture of inclusion is a core commitment for Mercedes-Benz Financial Services, and it is a business imperative.
We offer a variety of opportunities that empower employees to contribute to the conversation:
Affinity-Based Business Networking Groups
Diversity & Inclusion Conference
Diversity Roundtables and Lunch-and-Learns
A variety of multicultural activities and celebrations
Benefits that Go Beyond
When it comes to our benefits, Mercedes-Benz Financial Services has all the traditional offerings you'd expect and many more. Our competitive salaries and benefits reflect what we value and are designed to promote wellness in all aspects of your life. To truly support our employees in their work, we know we need to support their ability to stay fit and well, and to balance that work with their personal lives. We make all this easy to do with a comfortable, amenity-rich environment; a friendly, relaxed culture; and supportive programs and policies.
Salary
We offer highly competitive base salaries and generous benefits. Our annual variable bonus program allows you, as an employee, to further augment total compensation and share in the success you've helped create.
Benefits
Mercedes-Benz Financial Services strives to offer the best-in-industry benefits:
Vehicle purchase and lease programs
Health, dental and vision care
Out-of-country emergency health
Employee life insurance
Dependent optional life insurance
Disability programs
Pension programs
Employee Assistance Program
Lunch and learn sessions
Training and development opportunities
Extensive discount programs (insurance, gym memberships, car and hotel rentals, city events, etc.)
Personal days
Vacation days
Employee service awards
Rewards and recognition program
Flexible work arrangements
Health and wellness program with integrated employee assistance programs and work-life services

Work-Life Flexibility
When you join our team, we'll help you achieve a work-life balance and offer you a variety of programs and options for making work and home life more compatible. You'll consult with your manager to find the schedule that works best for you and the company. In addition to flexible ways of working, we provide our employees with eight corporate holidays, six personal days and a generous allotment of vacation.
Workplace Amenities
We also offer numerous on-site amenities and convenience services, depending on location, including:
Discounts for home cleaning services and retail stores
Dry cleaning services
Fitness room
Weekly virtual fitness classes
Casual dress code
Local vendor fairs
Social Responsibility
Social responsibility is one of our core values and firmly anchored in our corporate set of values. Social commitment is part of our culture and is exercised with a great sense of commitment across all units by many employees. They are the ones who help to actively help shape social concerns at the locations. And every year more initiatives and more volunteers are added.
Accessibility for Persons with Disabilities
Mercedes-Benz Canada and Mercedes-Benz Financial Services Canada are committed to providing accessible customer service to persons with disabilities. In accordance with the Accessibility for Ontarians with Disabilities Act, 2005 (AODA), we have developed standards that will improve accessibility across the Province of Ontario in a manner that respects the dignity and independence of persons with disabilities.
Frequently Asked Questions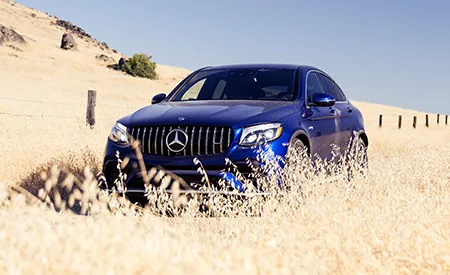 Frequently Asked Questions
Please visit our Frequently Asked Questions page if you have more questions.